Joe Drops by Live From Daryl's House Tomorrow, Nov. 15 For 60th Episode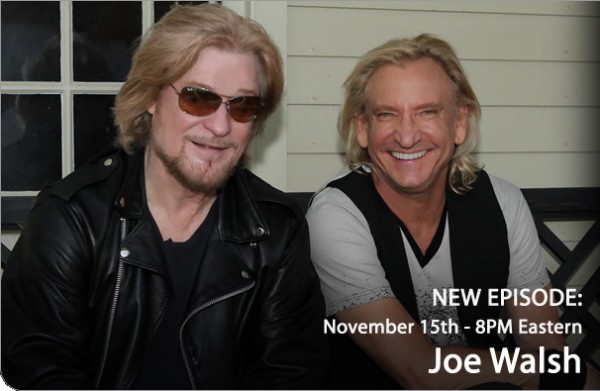 Life begins at 60 for Live from Daryl's House as the critically acclaimed, award-winning web-to-cable series celebrates its latest milestone with a visit from legendary Eagles and James Gang guitarist Joe Walsh, who combines with Daryl Hall for a mighty rave-up that also includes learning how to combine 42 ingredients into a tasty chicken mole. For the 60th and latest edition of the show, now available on over-the-air syndication, Daryl and Joe trade guitar licks and verses on the latest episode, which premieres Nov. 15 simultaneously at www.lfdh.com and Viacom's high-definition music channel Palladia.
Daryl and Walsh hit it off right away, with roaring versions of the latter's "Rocky Mountain Way," cranking out his famed talk box, and "Life's Been Good" that featured the two feverishly trading verses and guitar licks. The two perform a pair of Hall solo numbers in "Somebody Like You," the VH1 Behind the Music update of "Someone Like You," from his 1986 solo album, Three Hearts in the Happy Ending Machine" and a take on "Wrong Side of History," from his recent Verve Music Group solo album, Laughing Down Crying. Walsh also played "Wrecking Ball," a track from the recently released Analog Man, his first solo album in two decades, and "Funk 49/50," a gem from his early days in the James Gang. In between, everyone dined on a delicious chicken mole, cooked up by Julieta Ballesteros, the chef at New York Mexican restaurant Crema.
"I was a kid in the Temptones back in Philly when I first heard 'Funk 49,'" recalls Daryl. "Joe was one of the first to take that blues-rock groove and really funk it out. He's one of the great guitar legends, an amazing musician. I couldn't wait to play with him."
Joe, who clearly enjoyed the experience, was equally enthused to play with Daryl. "He's been a favorite of mine for a long time," he said. "And I finally wound up on the East Coast with enough time to get up to Daryl's and represent. It was great to finally play some music with him. The band's great, the production crew's great, and I totally support the home-grown concept. Hope everybody enjoys the show as much as I did."
Walsh took time during the show to tell of getting his first guitar, a $40 Sears & Roebuck Silvertone model after originally playing trombone and clarinet growing up. "I stumbled across the guitar, because I needed something I could play that wasn't in my mouth, and that I could write music on," he laughs. "I was never going to get any girls playing clarinet. Not that I got any playing guitar, but it was a lot more fun."
Taking a cue from the title of his latest album, Analog Man, Walsh criticizes the "digital recipe" of most pop music today, explaining, "It's all about the magic of a human performance."
And there's no better example of that than the interaction between Walsh and his host on the latest edition of Live from Daryl's House, which turns Hall's living room into a garage, with a slam-bang version of "Wrecking Ball" ending in what Daryl dubs, "a Neil Young moment." There were more than several of those over the course of the episode.