SOLO "WALSH TOOR" DATES ANNOUNCED IN JULY AND AUGUST 2016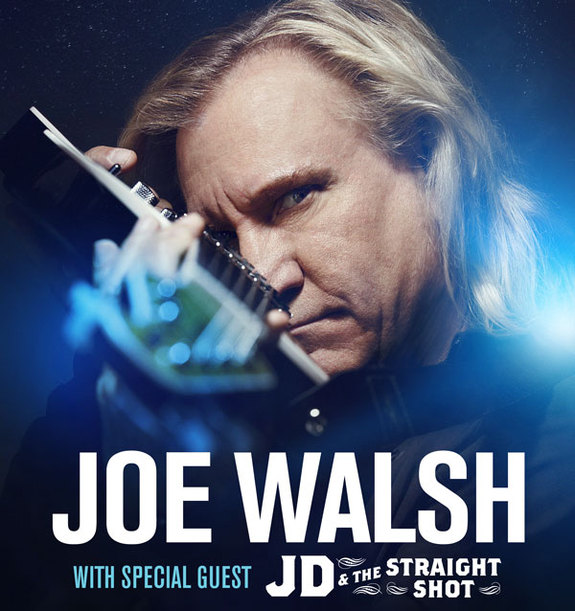 ADDITIONAL U.S. SHOWS FOLLOW "ONE HELL OF A NIGHT" TOUR WITH BAD COMPANY
Joe Walsh confirmed additional tour dates that will directly follow up his co-headline tour with Bad Company. The "Walsh Toor 2016" will kick off in Ohio, birthplace of the James Gang, with dates in West Virginia, up and down the East Coast, as far north as Maine and down to South Carolina, Alabama and Tennessee. Special guests JD & the Straight Shot will be opening.

Walsh will be joined by his Barnstorm bandmate Joe Vitale on drums as well as Chad Cromwell, Waddy Wachtel on guitar, Larry Young on bass, Jimmy Wallace on keyboards and DJ Clayton Janes. Singers Leslie Fuller, Lois Mahalia, Windy Wagner and Rickey Washington will provide background vocals.

"I decided to round up great players that I've played with in the past, like Joe, Waddy, Chad and Ricky. These guys know my music and I'm very comfortable playing with them. I think this band is the best I've had in a long time. I didn't feel that the One Hell of a Night Tour should be the end based on how we are all playing."

Drawing from an extensive catalog of hits throughout his four-decade career, the set list will include "Rocky Mountain Way", "Walk Away", "Life's Been Good To Me So Far", "Funk 49", "Life In The Fast Lane", "In The City", "Over and Over", "Life of Illusion", "Turn To Stone", "Ordinary Average Guy", "Analog Man" and more.

Walsh has been busy and recently contributed an original song, "No Man's Land" to the documentary, Citizen Soldier, about an Oklahoma National Guard unit which was called up to active duty and fought heroically in Afghanistan. Walsh has also been working with Black Keys' Dan Auerbach and original James Gang guitarist Glenn Schwartz.

Tickets for "Walsh Toor 2016" will go on sale this week. This tour will include a number of special VIP ticket packages which may include Premium Tickets, Meet & Greets, Exclusive Merchandise and more.

"Walsh Toor 2016" Dates:

7/16/2016 - Cincinnati, OH @ PNC Pavilion @ Riverbend Music Center
7/17/2016 - Huber Heights, OH @ Rose Music Center at The Heights
7/19/2016 - Charleston, WV @ Clay Center for Arts & Sciences
7/21/2016 - Glen Allen, VA @ Innsbrook After Hours
7/23/2016 - Wallingford, CT @ Toyota Presents the Oakdale Theatre
7/26/2016 - Hampton Beach, NH @ Hampton Beach Casino Ballroom
7/28/2016 - Portland, ME @ Maine State Pier
7/30/2016 - Atlantic City, NJ @ Borgata
7/31/2016 - Lancaster, PA @ American Music Theatre
8/2/2016 - Fort Wayne, IN @ Foellinger Theatre
8/4/2016 - Wilkes-Barre, PA @ Kirby Center for the Performing Arts
8/6/2016 - Charlottesville, VA @ nTelos Wireless Pavillion
8/7/2016 - Baltimore, MD @ Pier Six Pavilion
8/9/2016 - Raleigh, NC @ Red Hat Amphitheatre
8/11/2016 - Charleston, SC @ Gaillard Center
8/13/2016 - Memphis, TN @ Mud Island Amphitheatre
8/14/2016 - Louisville, KY @ Palace Theatre
9/16/2016 - Telluride, CO @ Telluride Blues and Brews Festival
9/17/2016 - Aspen, CO @ Belly Up

For a full list of upcoming Joe Walsh concerts, head over to the Events Page.