Joe Walsh: My Life in 15 Songs
From RollingStone.com - BY RICHARD BIENSTOCK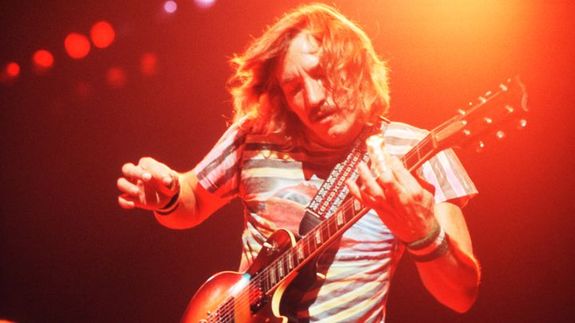 Joe Walsh has called himself an "ordinary average guy," which is something of a stretch for a man who's written some of rock's greatest riffs, from the James Gang's "Funk #49" to the Eagles' "Life in the Fast Lane" and his own "Rocky Mountain Way." Walsh's offstage exploits are similarly the stuff of legend: He's hung with Hendrix, freaked out Elton John, leveled hotel rooms with the likes of Keith Moon and John Belushi, and even ran for president (his platform: Free Gas for Everyone) – all while consuming enough vodka and cocaine to fell an elephant. "I never imagined how far down one could go," Walsh told Rolling Stone recently about his years of abuse. "But I went there. And it was a long way back."

Now 68 and sober for more than two decades, Walsh has righted his course. He released a well-received album, Analog Man, in 2012, and is currently out playing sheds on a co-headlining run with Bad Company, on the aptly named "One Hell of a Night" tour. He checked in with RS from a (presumably intact) hotel room in Arkansas to look back on his roughly half century in music. "It's a pretty good list of songs," he remarked about the ones discussed here. But, he added, "I don't think I'm done yet. There's still some more stuff I want to say."

Head over to RollingStone.com to check out the list of songs.